1395 Days Without Red
art film
2011
in collaboration with Anri Sala and Sejla Kameric //
produced by Artangel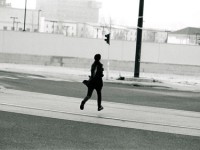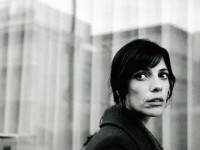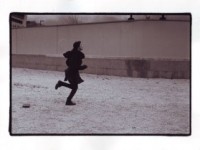 A woman makes her way through an empty city. At every crossing she stops. Should she wait or should she run? Should she wait or take the risk on her own?
The city is Sarajevo, and the route the woman takes became known as Sniper Alley during the siege of the city endured by its citizens for 1395 days between 1992 and 1996. The woman, played by Spanish actress Maribel Verdu, is reliving the experience of the trauma of the siege. It is her individual journey through the collective memory of the city.
Presented by Manchester International Festival, Artangel and the Whitworth Art Gallery, 1395 Days without Red is a cinematic project by Šejla Kameric; and Anri Sala in collaboration with Ari Benjamin Meyers. It comprises two separate works made from material developed and filmed together in Sarajevo.
FURTHER SCREENINGS 2012-2013:
ARCO Madrid February 16/17
Museum of Modern Art, Warsaw February 19
Istanbul Modern February 16 - May 2
Marrakech Biennale March 2/3 (tbc)
Sharjah Art Foundation, UAE March 17/18
Boijmans van Beuningen Museum, Rotterdam April or May tbc
Museu Serralves, Porto April - May tbc
Centre Pompidou Paris May-July
Museum of Modern Art, Belgrade May – June dates tbc
Contemporary Art Centre (CAC), Vilnius November 30, 2012 - January 13, 2013
more info at the Artangel
website
1395 Days without Red commissioned by Artangel with Manchester International Festival, Whitworth Art Gallery (Manchester), Fundació Museu D'Art Contemporani de Barcelona (MACBA), Museum Boijmans Van Beuningen (Rotterdam), enabled by Han Nefkens, H+F patronage, Festival d'Automne (Paris), Arts Council England, European Cultural Foundation, Film Fund Sarajevo, Marian Goodman Gallery (New York), Hauser & Wirth (London & Zurich). Co-produced by Artangel and SCCA/pro.ba.