NY.2022
installation/performance
2008 // Guggenheim Museum N.Y.
in collaboration with Dominique Gonzalez-Foerster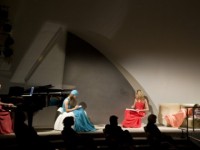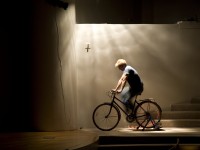 Friday and Saturday, October 24th and 25th 2008
NY.2022 – Installation with Symphony Orchestra
Peter B. Lewis Theater in the Solomon R. Guggenheim Museum New York
This performance/installation by Dominique Gonzales-Foerster and Ari Benjamin Meyers has as a central theme 'endings and last things'. The work is based on the iconic science-fiction film Soylent Green (1973). The film explores an unsettling vision of a New York City of the future, population 40,000,000. The live performance featuring the Richmond County Orchestra will last approximately 50 minutes and is part of the Works & Process series.
"A few minutes into "NY. 2022," a performance piece at the Guggenheim Museum last Friday night, a young man and woman stripped naked, stepped into a frosted-glass shower stall and started pouring water on each other. As if on cue, two audience members got up and left the museum's theater, huffily.
Too bad. They missed 45 minutes of ineffably touching, occasionally sentimental vignettes, music and seemingly mundane yet profound life lessons, culminating in the joyous first movement of Beethoven's Sixth. It was played by an orchestra whose members rose, one by one, and disappeared into the wings as the music progressed, until the last few bars were played by a lone bassist. Suddenly, the sweetness of art, life and even death seemed rolled into one.
The performance — a collaboration between the French artist Dominique Gonzalez-Foerster and the musician Ari Benjamin Meyers — was performed twice last weekend and, sadly, won't be repeated. But it provides valuable viewing advice for the exhibition that occasioned it: the Guggenheim's barely there, sometimes invisible exhibition, "theanyspacewhatever." Namely, don't leave early."
-Roberta Smith, The New York Times
Works and Process