T.451
a scenic walk
2012 // Tensta Konsthall
in collaboration with Dominique Gonzalez-Foerster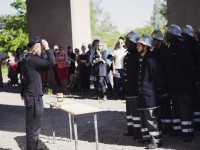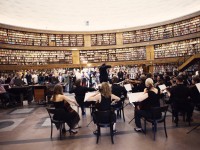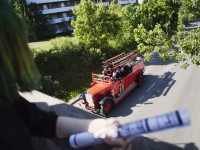 Visual artist Dominique Gonzalez-Foerster and composer Ari Benjamin Meyers' scenic walk through Stockholm and its surroundings traces a classic story in a current reality. The one-time only performance T.451 is inspired by Ray Bradbury's sci-fi novel Fahrenheit 451 (1953), as well as the film version by François Truffaut (1966) with music by Bernard Herrmann. In Bradbury's original story, set in a future society, the only communication is made through TV and images. Literature is regarded as dangerous for the unified community and has thus been classified as illegal. The printed word is actively searched for and destroyed by firemen who, instead of putting out fires, burn books to prevent disillusioned human conditions.

In T.451 the public becomes witness to re-enactments played out in Stockholm city and the suburb of Tensta. By inserting scenarios where music plays a large role into architectural environments, infrastructure, and public places such as Gunnar Asplund's famous Stockholm Library; the Stockholm subway; and the late modernist housing area Tensta, Gonzalez-Foerster and Meyers are testing the possibility of an imagined future through a new form of musical and performed narrative.

Gonzalez-Foerster and Meyers first started working together in 2007 as part of Il Tempo del Postino, the group show/artist opera curated by Hans Ulrich Obrist and Philippe Parreno, which premiered as part of the inaugural Manchester International Festival. Their first full production as collaborators followed in 2008 with the work NY.2022 for the Peter B. Lewis Theater at the Solomon R. Guggenheim Museum New York. In 2009 they premiered the Performa 09 commission K.62/K.85 at the Abrons Arts Center in New York. In 2011 this production subsequently traveled to Kaaitheater, Brussels (K.62/K.73/K.85) and then to Hebbel Theater Berlin (K.62/K.85/M.31). In addition to T.451, they are working on a number of new projects, as well as a web-based archive. Their work together often takes its inspiration from specific films or pieces of music and has been self-described as "audience-based."

T.451 is a collaboration between Stockholm konst and Tensta konsthall, with support by Stockholm Library, Tensta Library, and Einar Mattsson AB. A special thanks to The Greater Stockholm Fire Brigade, the organization Röde Hanen The Stockholm City Museum, and Kurdiska föreningen Spånga. Produced by Stockholm konst.